Please follow and like us:
Summer is nearly here on the calendar although by the weather here, you would be hard pressed to say it isn't summer already. The grass and trees are a lush green, full of energy and life. Birds are chirping, bullfrogs are croaking and the singing of the peepers keeps us entertained every evening. It is definitely time for a summer shawl.
As my thoughts slowly came round to summer knitting a few months ago (it was still anything BUT summer weather-wise and my design brain really needed some thawing out!), I began to think of linen yarns. I have linen shirts and dish towels, both of which I love as the more you wash them, the softer they get, yet there is an inherent strength of fiber that remains.
When I perused for yarn sources, I was happy to find that Knit Picks offered a linen blend called Lindy Chain that offered a variety of summery colors. It was a chainette yarn rather than the standard twist, but why not give it a try? And so I did.
The result of these summer stirrings and Lindy Chain is the Thoreau's Pond Shawl. Thoreau's Pond is a slightly asymmetric, bias shaped shawl. Knit from one tip with a cast-on of only 5 stitches and worked towards the left bind-off edge. If you don't like long cast-ons and just want to get right to the knitting, then this pattern is a great choice!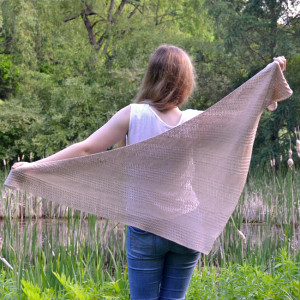 I can easily understand why bias shaped pieces are so popular!
An interesting pairing of stitch patterns adds textural striping and visual interest to the shawl. None of the stitches are difficult and I would say that if you are an advanced beginner, you should have no difficulty working this pattern. The result is a versatile wrap that looks as equally at home in the garden with jeans as it does out to dinner in your favorite Anthro dress!
Full pattern details for the Thoreau's Pond Shawl can be found here.