Please follow and like us:
It's almost July 1st…just a few more hours and it is HOT!! The thermometer topped 90 degrees Fahrenheit today. So what do I do? I publish a winter hat pattern, of course!
Say hello to the Flint Hill Hat. Flint Hill is quick to knit and deep winter warm. It features a simple cable and slip stitch design that diminishes to an attractive crown. It is then finished off with a lovely, squishy pompon. Finally, I've allowed plenty of room in the top of this hat, so that you can pull it down over your ears for those extra blustery days.
The Alternating/Italian cast-on creates the professional finish of a tubular cast-on without the multiple rounds required to work it. This is actually my first time utilizing the Alternating/Italian cast-on in one of my patterns. I must say that I really like it! It does take a little getting used to when you first work it and  you need to be careful not to let it twist before joining it in the round. But, it is definitely worth the extra effort.
Flint Hill fits an adult head size of approx 22" – 23.5" (55.9 cm – 59.7 cm). Additional sizes are available by working more/fewer full pattern and/or round repeats.
Gauge is important with this project. My sample was worked using Quince & Co's Puffin. Puffin is listed as a super bulky yarn, but I found it to be on the light side of super bulky or the heavier side of bulky. This slightly smaller diameter and the needle sizes that I used led me to list this yarn as 5-Bulky rather than 6-Super Bulky in my pattern. Just be aware that working so few stitches on large yarn can lead to BIG variations in gauge and finished size, so check your measurements!
As always, this downloadable, PDF pattern has been professionally tech edited and test knit to reduce the potential for error.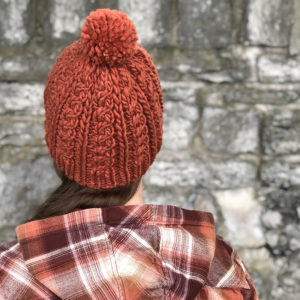 Hope you like this latest release. It's a relaxing pattern to knit, yet provides some nice tailored touches. Full pattern details for the Flint Hill Hat can be found here.