Please follow and like us:
Honestly, when I designed this pattern there WAS snow on the ground! It was February and it was COLD! Somehow life got away from me though, and here it is May already.
Enough said about my tardiness. It might be a small design that was a long time coming, but hey, it's here now and I'm very happy with it.
I've always admired this stitch pattern and though I suppose it's meant to be leaves, it reminds me of snow covered pinecones, so hence the name for this lovely, little headband.
Snowy Pines is a feminine affair and sports a small garter stitch wrap that gently gathers the headband at a single point in its circumference. Place this wrap at a jaunty angle to one side of your forehead or at the nape of your neck for two very different styles.
It's also a small, portable project that will keep your interest with patterning on both sides of the work to create those gently curved lines.
Snowy Pines is the first of several headband patterns that I will be publishing over the next several months. Each of these patterns include two photo tutorials: Crocheted Provisional Cast-On and Top to Bottom Kitchener Joining. I don't want knitters to be intimidated by these techniques – they really aren't all that difficult and they give such a professional finish to a knitted piece when worked correctly. (Who wants to sew something and be left with a seam showing?) My tutorials take you step by step through each technique.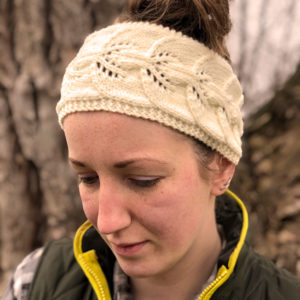 As always, this downloadable, PDF pattern has been professionally tech edited and test knit to reduce the potential for error. The pattern is charted, but also features complete written line by line instructions so the ability to read a chart is not necessary to work this pattern.
Full pattern details for the Snowy Pines Headband can be found here.