Please follow and like us:
Summer will soon be a distant memory, but don't let that get you down. Along with fall and a chill in the air comes warm, cozy knitwear to knit up and enjoy and the Cider Press Scarf and Cowl are just the perfect stepping off point for your fall knitting.
Inspired by an antique cider press, the Cider Press Scarf and Cowl feature a "flowing cider" center cable, "wooden screw" side cables and a "screening" border. Both the scarf and cowl are worked from end to end. The mirroring effect is achieved entirely by the visual direction of the pattern stitches used.
These versatile pieces can be worn in a variety of ways, so wrap away to find your favorite look. As a gender neutral accessory, the Cider Press Scarf and Cowl look equally well on both men and women.
Allow approximately 565 yds (517 m) of worsted weight yarn for the scarf – it's gloriously long! The tailored, buttoned cowl requires approximately 350 yds (320 m) of worsted weight yarn. Gauge is not critical, but keep in mind that a different gauge will result in different finished dimensions as well as changing your yarn requirements. Please make sure you have enough yarn!
My samples were knit in the lovely Madelinetosh Tosh Vintage using the Terra (orange) and Thoreau (green) colorways.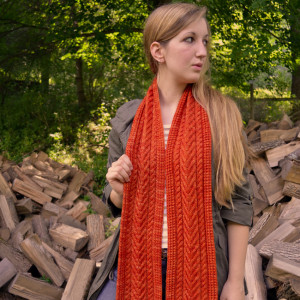 This lovely pattern is fully charted, but also includes complete written directions so the ability to read a chart is not necessary to work this pattern. The pattern has also been professionally tech edited and test knit to reduce the potential for error.
An attractive cable pattern and a non-roll border stitch keeps the knitting interesting, while the short length rows make this a great take-a-long project for when you only have a few minutes of knit time.
The Cider Press Scarf and Cowl make for a fun knit and are sure to get you fired up for fall! What fall colors can you think of for Cider Press? Cinnamon, amber, a rustic brown? Full pattern details for the Cider Press Scarf and Cowl can be found here.