Please follow and like us: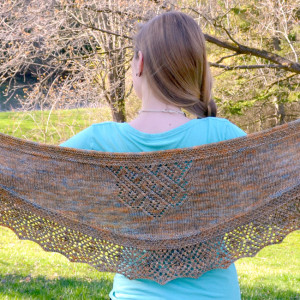 Sometimes I see a certain yarn and it's beautiful…I love it…but have no idea what to make with it…other times, it all comes together at once. Such was the case with my latest project and Madelinetosh Tosh Vintage in the Earl Grey colorway. The texture, the colors…literally everything about the yarn told me what I needed to design with it.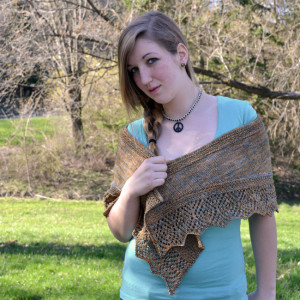 A golden, sandy brown with hints of blue. From there, the Artifact Shawlette began to take shape. It was further inspired by the ancient ruins, fossils and relics that record our history and the passage of time. A spider web lace edging was added to reflect how our past and future are intertwined, while both Egyptian and Celtic influences are evident in the "woven" borders and central scroll motif.
The shawlette is worked from the bottom up and features a very slight crescent shape created by a combination of short rows and uniformly placed decreases. The finished, blocked shawlette measures approximately 52" (132 cm) wide along top edge and 16" (41 cm) long at center.
The pattern is fully charted, but also includes complete written directions so the ability to read a chart is not necessary to work this pattern. Directions for how to work short rows and I-cord edging are also included for those who may be new to these techniques.
Allow approximately 465 yds (425 m) of worsted weight yarn. My sample was knit using (3) 4 oz/110 gr (200 yds/183 m) skeins of Madelinetosh Tosh Vintage. So, if you are ready to knit your way back a few centuries, full pattern details for the Artifact Shawlette can be found here.