Please follow and like us: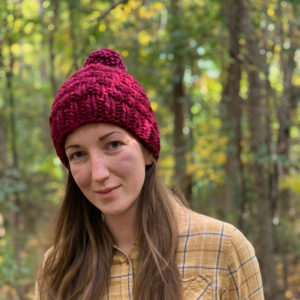 What better day to release a pattern featuring a delectable, rich shade of red than on Valentine's Day? Thank you Malabrigo Yarns, for your talents in dying to bring us a shade like Pagoda. I'm in love, how about you?!?
Please welcome my latest pattern release, Rosedale Park Hat. Named for a particular Detroit neighborhood featuring lovely older Tudor-style brick and stone homes, Rosedale Park features an easy to follow and/or modify textural pattern of alternating knits and purls worked in Malabrigo Rasta (a super bulky, oh so soft yarn). Work one pattern in Rasta and you will be hooked for good. It's forgiving and makes for a fast, fun knit.
Rosedale Park fits an adult head size of approx 22" – 23.5" (55.9 cm – 59.7 cm). Additional sizes are easily created by working more/fewer full pattern and/or round repeats.
Gauge is VERY IMPORTANT with this most any project, but is critical with this one. Just be aware that working so few stitches on large yarn can lead to BIG variations in gauge and finished size, so check your measurements! Always match to the pattern gauge, not ball band or manufacturer suggested gauge!
As always, this downloadable, PDF pattern has been professionally tech edited and test knit to reduce the potential for error.
Whether you are planning on strolling the streets of Rosedale Park, Detroit or your own hometown, check out the Rosedale Park Hat pattern. Start knitting on a Friday evening and go for you walk with your finished hat the next day! Full pattern details for the Rosedale Park Hat can be found here.