Please follow and like us:
Another shout-out to cable lovers! I've got a cabled treat for you!
There's plenty of headband season still left here in the Northeastern USA (70 degrees a couple of days past, now 20!), so I couldn't resist designing another headband when I discovered this cable. The Lochmoor headband is a quick knit and promises you cozy warmth with just a couple evenings spent knitting —- and who doesn't love to do that anyway?
Lochmoor is another shaped headband, wider for the oh-so-necessary ear coverage and tapering towards the nape. This headband is a shade wider at the nape than either the Celtic Roots or Stoney Creek headbands, just so I could accommodate a gorgeous 4-plait braid cable.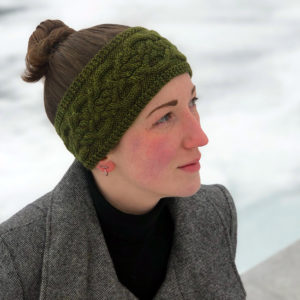 Lochmoor is now the sixth of several headband patterns that I have continued to publish over the last year. I guess you could say that I've been on a bit of a jag…and here I thought I was done with headbands for a bit!
Anyway, each of these patterns include two photo tutorials: Crocheted Provisional Cast-On and Top to Bottom Kitchener Joining. These techniques are invaluable to learn and will make your finished projects stand out with their professional finish. I encourage you to give them a try. I promise the reward is well worth the effort.
As always, this PDF pattern has been professionally tech edited and test knit to reduce the potential for error.
The pattern is charted, but also features complete written line by line instructions so the ability to read a chart is not necessary to work this pattern.