Please follow and like us: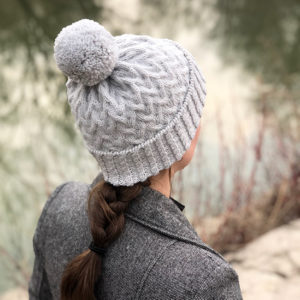 Spring will soon be here, but I'm sure we have more frosty days to come! It's still a great time for hat knitting. After all, it only takes a couple of evenings to knit a nice, warm hat.
So, come, meet Fair Lane. Fair Lane features a fold up brim to keep those ears of yours two-layer cozy, but Fair Lane does 2×2 ribbing in style with the addition of cabling. The ribbing then transitions into an intriguing allover cable pattern. It's a deceptively easy pattern stitch with lots of stitch definition and depth. One of my personal favorites!
Finally, Fair Lane is my very first hat to feature a pompom. I'm not really a pompom kind of person if I'm being totally honest, but they are incredibly fun to make with the pompom makers that are available today (kind of addicting and therapeutic all at the same time).
If you're not into poms (no way, no how), no worries. Fair Lane features an attractive crown decrease that won't leave you disappointed if you choose to forego the cute "carpet ball".
Fair Lane fits an adult head size of approx 21" – 24" (53.5 cm – 61 cm). Additional sizes are available by working more/fewer full pattern and/or row repeats.
As always, this downloadable, PDF pattern has been professionally tech edited and test knit to reduce the potential for error.
Interested in seeing a bit more of Fair Lane? I hope so! Full pattern details for the Fair Lane Hat can be found here.