Please follow and like us: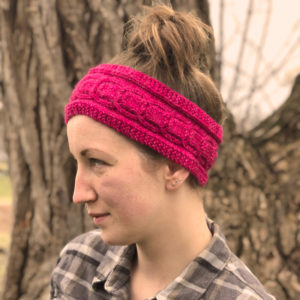 Back Roads is now officially a collection! Woohoo! Back Roads Headband joins the Back Roads Hat and Back Roads Mitts as the third pattern in the Back Roads series to feature the lovely Jewel Cross Rib stitch pattern.
Like Snowy Pines and Sugar Run, it's yet another portable project! Short length rows make it easy to put down and pick up later without losing your place. Wonderful for gift giving too. Each headband only takes a few hours to complete!
The Back Roads headband is the third of several headband patterns that I will be continue to publish over the next several months. Each of these patterns include two photo tutorials: Crocheted Provisional Cast-On and Top to Bottom Kitchener Joining. I don't want knitters to be intimidated by these techniques – they really aren't all that difficult and they give such a professional finish to a knitted piece when worked correctly. My tutorials take you step by step through each technique.
As always, this downloadable, PDF pattern has been professionally tech edited and test knit to reduce the potential for error. The pattern is charted, but also features complete written line by line instructions so the ability to read a chart is not necessary to work this pattern.
Full pattern details for the Back Roads Headband can be found here.